The pace of packaged LED and solid-state lighting (SSL) product announcements has certainly escalated of late, coincident with the more widespread usage of the technology in greenhouses and vertical, urban farms. Cree began the summer announcing its Photo Red packaged LED for horticultural applications and now just four months later has said that performance has increased by 21% in both the new XLamp XQ-E and XP-E High Efficiency (HE) LEDs. The improvement will enable horticultural lighting manufacturers to reduce the size of luminaires and/or cut system cost.
Interested in articles & announcements on LEDs for horticultural lighting?
The Photo Red LEDs are intended to optimize the plant photosynthesis process by emitting light in the 660-nm energy band, a spectrum known for increasing chlorophyll absorption as we covered in a feature article on horticulture. More recently, horticultural experts have evolved the knowledge base to identify other spectra that are also important to various plant types as we wrote recently. And so-called light recipes will be a key topic at this Wednesday's Horticultural Lighting Conference in Chicago. There are only a few seats left at the conference if you would like to attend.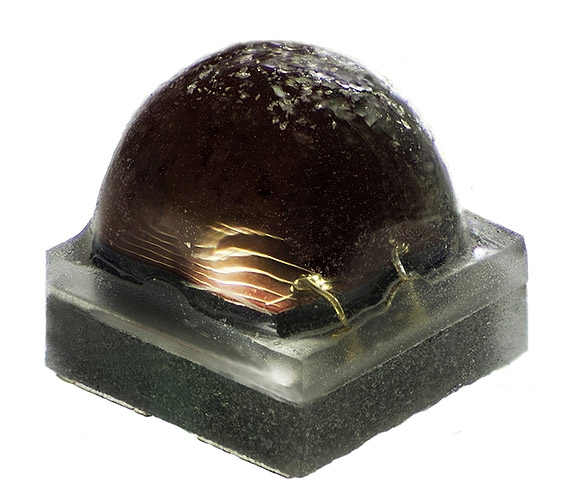 The Creen XLamp XQ-E delivers PPF of 5.39 µmol/sec, a horticultural lighting metric that is based on the total photons produced in the plant Photosynthetically Active Radiation (PAR) region.
Back to the Cree LEDs, the company is characterizing the LED performance using the Photosynthetic Photon Flux (PPF) metric. Metrics such as lumens and efficacy that target the sensitivity of the human eye have little or no significance in terms of the effectiveness of LED lighting on plant growth. The PPF metric is based on the total photons produced in the plant PAR (Photosynthetically Active Radiation) region from 400–700 nm, although other new horticultural metrics will include an even wider region from 280–800 nm or the plant biologically active radiation (PBAR) band as we will detail in a November/December feature article.
Cree says the new XQ-E HE LED delivers PPF of 5.39 µmol/sec (micro mole per second) from just a 1.6×1.6-mm package. And the XP-E HE LED delivers 6.08 µmol/sec. Moreover, Cree said the 3.45×3.45-mm XP-E is the first monochromatic red LED to break the 1W barrier in terms of radiometric power, and that performance is at 85˚C junction temperature.
The ramped performance will provide options for lighting manufacturers in terms of the size and number of LEDs used in a luminaire. "The XQ-E family provides a unique combination of ultracompact package, high output, and wide range of horticulture-optimized colors," said Michael Naish, director of Rusalox. "Using XQ-E LEDs with our unique AlumOxide technology, our customers can create luminaires that use half the power of conventional HPS luminaires, as well as being smaller and weighing less than incumbent technologies. The higher-performing XQ-E High Efficiency Photo Red LED will enable customers to quickly reduce the power consumption of their current design even further for faster payback periods."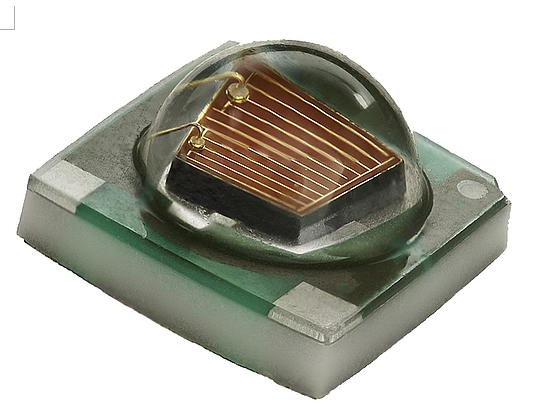 Cree says its XP-E HE horticultural lighting LED is the first monochromatic red LED to break the 1W barrier for radiometric power.
Cree, meanwhile, is touting the advantage that the Photo Red and its other LEDs used for horticulture are based on the LED package technology proven across its high-power LED family and are designed for R90 lifetime over 100,000 hours. "Our technology enables customers to create high-performance, long-life luminaires that drive the adoption of LEDs in this emerging application," said Dave Emerson, vice president and general manager for Cree LEDs. "With these additions, Cree continues to offer the industry's best portfolio of LEDs optimized for horticulture, including White, Royal Blue, and Far Red color options. The new XQ-E and XP-E High Efficiency Photo Red LEDs bring Cree's latest high-power performance breakthroughs to horticulture lighting, with twice the PPF density and higher output than all other available LEDs."
Cree is not alone in pursuing the horticultural lighting market. Just a few weeks back, Lumileds announced new LEDs targeted at the application including mid- and high-power LEDs, among them a unique phosphor-converted purple LED that mixes red and blue spectra.